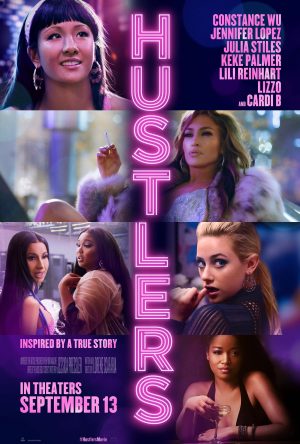 Hustlers
R
|

117 min.
Plot
Inspired by the viral New York Magazine article, Hustlers follows a crew of savvy former strip club employees who band together to turn the tables on their Wall Street clients.
Starring
Constance Wu, Jennifer Lopez, Julia Stiles, Keke Palmer.
Age Policy
All R-Rated movies are intended for an older, adult audience.
Moviegoers under 17 must be accompanied by a parent or adult guardian.
For any R-Rated movie, children under the age of 6 will not be admitted after 6PM in an effort to create a more appealing atmosphere for our adult audiences.
Adult guardians are:
21 years of age (Id required) or more.
Required to attend the entire movie with the child.
Authorized by a parent to bring the child to an R-rated feature.
Ticket Prices
| | |
| --- | --- |
| Adult (weekend): | $8.00 |
| Adult (week day): | $7.50 |
| Seniors (60+) or Child (ages 3 to 11 ): | $5.75 |
| Military (with ID): | $5.75 |
| Matinee (before 6 PM): | $5.75 |
| Tuesday Family Night(all shows after 6 pm, excludes new releases): | $3.50 |
| 3D Upcharge: | $2.50 |